AWEH Flower Essences Catalog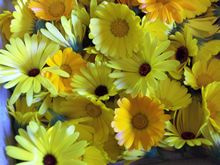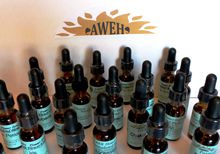 The following are high vibration essences, made in and from our garden with the aim of assisting personal and planetary healing and evolution.

Premade Formulations (Blends) $18 postpaid. One Oz Bottle
We've dowsed some combinations for feelings, circumstances and issues shared by a lot of us now. We're thrilled with reactions to them and will be adding new ones as they reveal themselves. These are blended from our own essences, with a few exceptions, as noted.
Healer's Kit $99 ppd.
Boxed set of six of our special blends to cover a range of higher level uses for clients during and after healing sessions of all kinds. A savings over buying individual formulations.
Single Essences $12 ppd.
One oz. bottle of any one of our Essences
Personal Consultation and Formulation $70 ppd.
Custom formulation personally blended for you - one oz. Includes energy field assessment and blend of essences most beneficial to you. Mostly from our garden; sometimes the formula calls for some essences from other makers.
Patti's consultation is charged with her 20+ years of experience of working with Flower Essences as a means to open and clear non-beneficial life patterns. Clients come away with expanded clarity and freedom from at least one major limitation. To order and/or see descriptions, click on any item below.
Information on this site is not intended as medical advice, but is for education only. Many historical and traditional uses and properties of herbs have not been validated by the FDA. If you have any serious health concerns, including pregnancy, you should always check with your health care practitioner before self-administering herbs.